Today my guest is the incomparable Regina Scott. Regina is not only one of my favorite sweet Regency authors, but she's also a member of my Georgian/Regency writers group called The Beau Monde. (She's a great dancer and incurable flirt, too, but I'll let her tell you about that!)

Welcome, Regina! I'm so glad to have you as a guest on my blog today. Tell me, how long have you been writing?
Regina: Well, I've been writing since I was about eight and realized that all those great books were actually written by people and I could be one of them!  But this month marks the 15th anniversary of my first published novel, The Unflappable Miss Fairchild.
Donna: Oh, how fun! Happy anniversary! 🙂 Speaking of your first book, what was it like when you first got "the call?"
Regina: I was working at a major national laboratory at the time, the head of public relations for the environmental technology division.  My husband called me at work while he was home for lunch and held the phone up to our answering machine so I could hear John Scognamiglio of Kensington Publishing ask me to give him a call.  I was so excited, I ran around the corner in the office, where my critique partner worked, to tell her what happened. She said, "Go home.  You aren't going to be any good at work until you take that call."  She was right, of course!  So I raced home, called New York, and accepted a two-book deal.  Then I tried calling my husband to tell him I was going to be published, and he was in a meeting and couldn't be disturbed.  I tried calling my parents—no answer.  I tried calling my best friend—no answer.  I tried calling my valiant critique partner who was holding down the fort at work—got her answering machine.  Finally, I called my grandmother and blathered like an idiot for several minutes.  When I took a breath, she said, "Is this a good thing?"  "Oh, yes, Grandma," I promised her.  "This is a very good thing."  And it turns out I was right!
Donna: Now that's a memorable call story! So tell me, what do you find fulfilling about writing your Regency romance?
Regina: The fact that there is an entire community of writers and readers devoted to Regency-set romances.  We angst over whether we've gotten it just right and rejoice with each other when we do.  And we put on an awesome party each year at the Romance Writers of America's annual conference.  😉
Donna: It is wonderful to have a group of like-minded history nerds, isn't it? So what motivated you to write your current book?
Regina: The Everards popped into my head nearly 6 years ago now, with all their faults and foibles.  I loved that Jerome, Richard, and Vaughn were so devoted to each other, so determined to learn the secret of their uncle's death.  They were these big, proud, talented, accomplished men, yet they were humbled by their sixteen-year-old cousin.  I can't quite believe that The Heiress's Homecoming marks the end of the series!
Donna: That's great! Tell us what is more difficult for you–writing the book or promoting the book? Any tips for success?
Regina: For me, promotion is hardest, no doubt!  I was raised never to toot my own horn, and it still feels very unnatural.  One thing I've found, however, is that I have to do what works for me.  I'm a bit of an introvert, so while I can be (I hope!) charming in an interview because I can type at my leisure, I am an absolute mess when it comes to public appearances.  And it took a long, long time for me to be comfortable using Facebook.  So my advice is to do what you feel comfortable doing.  If you're not having fun, neither will anyone else!
Donna: Great advice. I'm an introvert, too, so I totally understand what you are saying. What you are working on now?
Regina: I'm currently working on a new series about four magnificent estates near the Derby peaks of Regency England, four handsome owners who show no signs of marrying and begetting sons to inherit, and four sets of staff worried for their futures.  What more logical than for the cooks and butlers and housekeepers to band together, play matchmaker, and serve up a delightful dollop of marriage for their masters!  The Master Matchmakers will debut in August with The Courting Campaign, in which the new nanny wages a campaign to soften her widowed master's heart for his daughter, and ends up losing her own heart in the process.
Donna: That sounds delightful! I can't wait to read it. Okay, changes directions here a little bit now, What's the craziest, bravest, or stupidest thing you've ever done?
Regina: Well, it's certainly crazy, and it took a lot of bravery the first time!  I had attended the Regency author chapter's party at the Romance Writers of America's annual conference. Ladies in lovely Regency satin and lace were dancing with . . . other ladies, because their husbands either didn't come with them or were too scared to get out on the floor!  I thought it would be funny to come the next year dressed like a man, so Sir Reginald Scott was born.  The problem is, he's more popular than I am!  Last year, I was president of the chapter and leading the annual meeting when I opened the floor for questions.  The first question?  "Will Sir Reginald be at the soiree this evening?"  J
Donna:  I, too, have fallen for the charms of the irrepressible rogue Sir Reginald. Okay now here's the power round:
Favorite food?  Fresh raspberries
Favorite dessert? Apple turnovers with walnuts and raisins or my soon-to-be daughter-in-law's vegan chocolate cupcakes with peppermint frosting
Jeans and T-shirt, or designer clothes?  Designer clothes, from a vintage clothing store, though you'll usually find me writing in a velour jogging suit
Guilty pleasure? Honey walnut prawns—sooo many calories, sooo good!
One word that describes you? Eager
Favorite flower? Lavender
Favorite sport? Fencing
Donna: Please tell us a little about your new book.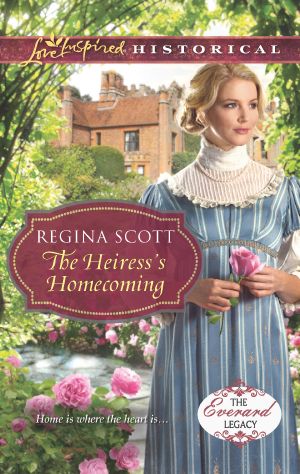 Regina: To keep her cherished childhood home, Samantha Everard must marry by her twenty-fifth birthday. Yet she refuses to marry on a whim, even to save her fortune. When she returns to Dallsten Manor to say goodbye, the last person she expects to see is her handsome, disapproving neighbor William Wentworth, Earl of Kendrick.
Will is certain the scandalous Everards are nothing but trouble. He shouldn't care about Samantha's predicament, but her feistiness and kindheartedness intrigue him—as do the secrets surrounding her. Soon his greatest wish becomes to persuade Samantha that her true home is with him.
Donna: Ahhh! Definitely my kind of story! You can learn more about Regina and her books here:
Website: www.reginascott.com
Blogging at:  www.nineteenteen.blogspot.com but glad to guest blog whenever asked
Author bio:
Regina Scott fell in love with the Regency period the day she picked up an Elizabeth Mansfield novel and was so swept away she had to be called three times to come to dinner.  Since then, she's written 24 works of Regency-set fiction, from traditional Regencies to single title historicals and inspirational romance.  She currently writes for Love Inspired Historical and will have three books out in 2013.  Connect with her on Facebook at www.facebook.com/authorreginascott.
Regina's books can be found at the following places:
Harlequin http://www.harlequin.com/storeitem.html;jsessionid=7535C22625DA53DB839624FFA96A7728?iid=27826
Amazon http://www.amazon.com/Heiresss-Homecoming-Love-Inspired-Historical/dp/0373829566
Barnes and Noble http://www.barnesandnoble.com/w/the-heiresss-homecoming-regina-scott/1112815366
A Bookstore Near You http://www.indiebound.org/book/9780373829569?aff=
The Book Depository (free shipping)  http://www.bookdepository.com/Heiresss-Homecoming-Regina-Scott/9780373829569
Kobo http://www.kobobooks.com/ebook/The-Heiresss-Homecoming/book-DDRwT1XHA0qVeltsVMBdtg/page1.html?s=sLW_Ol0CG0i_x-DtQvNtHQ&r=1