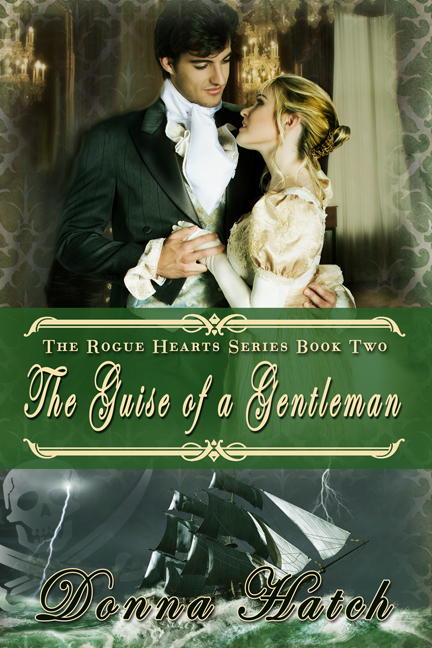 Win a free paperback copy of The Guise of a Gentleman, Book 2 of the Rogue Hearts Series.
It's the proof, so there will be a stamped "proof" across the inside page, but otherwise it is exactly as a real paperback copy.
To enter,  simply follow the directions  in the Rafflecopter below.
Don't be scared of Rafflecopter–it's super easy and will walk you through the process.
Here is the blurb from the back cover:
Though her heart longs for adventure, Elise strives to be a perfect English lady living within the stifling confines of society for the sake of her impressionable young son. Her quiet world is shattered when she meets the impulsive and scandalous Jared Amesbury. His roguish charm awakens her yearning for adventure. But his irrepressible grin and sea-green eyes hide a secret.
A gentleman by day, a pirate by night, Jared must complete one last assignment from the Secret Service before he can be truly free. Elise gives him hope that he, too, can find love and belonging. His hopes are crushed when his best laid plans go awry and Elise is dragged into his world of violence and deceit. She may not survive the revelation of Jared's past…or still love him when the truth is revealed.
Want it regardless? Buy the ebook copy now at Smashwords. Or Amazon. Or Barnes & Noble. Or the paperback copy here.
Last day to enter is midnight Sunday, February 9th.
Winners will be chosen randomly and announced on this blog.
a Rafflecopter giveaway

Contest open to everyone but is void where prohibited by law.