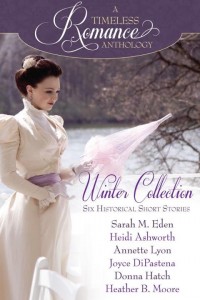 I have a new book coming out October 1, 2012!!!
Actually it's a short story in an anthology–a collection of six sweet historical romances, by six different authors, set in Winter. Though my story takes place during Christmas, it has a very Gothic feel.
My tale, A Winter's Knight, is about a young woman whose fascination with a murdering earl and his dark castle lands her in the heart of  a terrible curse.
The other authors in this anthology are: Sarah M. Eden, Heidi Ashworth, Annette Lyon, Joyce DiPastena, and Heather B. Moore who all tell beautiful, sweet historical romances.
This anthology will be available exclusively in ebook.