Do you have any plans for books 3 and 4 of your Rogue Hearts series with Grant and Christian as the heroes?
Yes, in fact I have four more books planned:
Christian's story is next, entitled  A PERFECT SECRET. It will be released in October. Long lost lovers torn apart by blackmail and obsession are reunited, but first Christian and Genevieve must escape the madman obsessed with Genevieve.
Grant's story is in the planning stages. He'll be embroiled in a Bow Street Sting operation and he'll find girl who brings him to his knees. Literally. No title has come to me yet.
Rachel (a sister) is not really plotted. She will overcome her heartbreak and fall for a childhood friend. Or maybe a sworn enemy. I haven't decided yet.
Margaret (sister) is a little better plotted. She'll be accused of murdering her husband  and then fleeing. One of Grant's Bow Street friends will hunt her down to bring her to justice. Or so he thinks.
What are your favorite Historical research resources?
Any books written by Jane Austen work because they were written and take place around that time period. her are some of my other favorites:
The Prince of Pleasure and His Regency
Our Tempestuous Day: History of Regency England
Georgette Heyer's Regency World
Dee Hendrickson's Regency World
Writer's Guide to Everyday Life in Regency and Victorian England 
are all excellent sources. But my favorite source is the Beau Monde, a Regency/Georgian Chapter of Romance Writers of America. A collection of knowledgeable and generous history buffs gather and share tips and sources for any question I can think of asking. They even know stuff it never occurred to me to ask.
Some of my favorite historical blogs are: Historical Hussies, Two Nerdy History Girls,  Jane Austen's World, Candice Hern, Regina Scott, among others.
What is new and upcoming?
My newest release is a Christmas story out now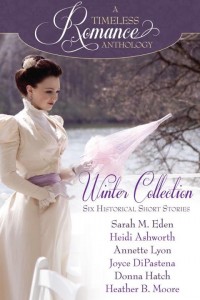 as part of an anthology with five other sweet historical romance authors. It's called A TIMELESS ROMANCE ANTHOLOGY; WINTER COLLECTION. The authors are Sarah M. Eden, Heidi Ashworth, Annette, Lyon, Joyce DiPastena, Donna Hatch

and Heather B. Moore, available on Smashwords, Amazon, and Barnes & Noble.
Are you planning on writing a book two for your fantasy, Queen in Exile?
Not a true book 2, but I do have another fantasy that I wrote, then lost when my computer crashed and my back up disappeared, and have started rewriting.  It may be a while.
Donna Hatch
Donna Hatch's historical romance and fantasy romance novels will sweep you away into a magical new world