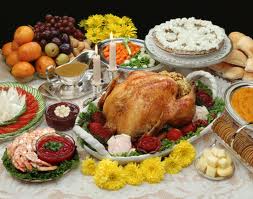 I love Thanksgiving. It's the only time my family gets together and everyone behaves themselves (mostly). I'm cooking tomorrow for 13 people. Glad it's not for 25. Also glad it's not for only one!
We're doing the traditional turkey, stuffing, mashed potatoes, corn on the cob, green bean casserole, rolls, pie.  No, my meals don't look as beautiful as this picture! Our only deviation from the usual Thanksgiving dinner is the addition of my mom's fruit salad, which comes with a yummy sweet dressing made from real whipping cream. Yum!
Last year, before dinner we played "giant croquet" with stakes instead of wickets, feet instead of mallets (is that the right name for it?) and soccer balls instead of croquet balls. It involved shameless cheating and turn into a free-for-all. Good times. I can't wait to do it again this year.
Things for which I'm thankful (in no particular order):
*that my family and grown children are spending Thanksgiving with us
*improved health
*good friends
*climbing book sales
*cooler weather
*my husband is so committed to us that he's willing to ride out the hard times in order to save the good times