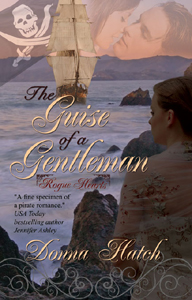 In my Regency Romance, The Guise of a Gentleman, my Regency lady, Elise, faced down a group of bad guys. Since I'd done my research, I knew if she were to defend the man and boy they were trying to kill, she'd only be able to get off one shot because of the time and difficulty loading guns. So, at first, I'd decided to either have her ride with two loaded guns or have a groom riding with her.
Then I found just what I needed:  proof of the existence of a double-barrel flintlock which could fire two shots, without having to reload. Huzzah!!!
Most Flintlock pistols were from 10 to 16 inches long, from butt to barrel muzzle. They would weigh from one to four pounds, depending on the caliber and the number of barrels. There were a number of double-barreled pistols during the Regency, but they were generally big and heavy. There were two types, the over and under, with a revolving lower barrel, but only one hammer, so that the pan had to be primed before firing again. Ladies' pistols were generally six to eight inches long.  A bullet for that small of a gun would be not much wider than this: / /. Still, being shot by even that small of a bullet would make an attacker think twice, wouldn't it?
The real problem was that the flint, the amount of powder, and the mechanisms is such a gun had to be accordingly small, which made them firing them successfully more difficult.
So, some genius gun maker started making guns with two barrels. Since guns were all made by hand, each one could be custom made to meet the buyer's specifications.
I found multiple pictures of small or woman's pistols as small as six inches long which would have been too small to hold a ramrod. The ladies' pistols weighed between 12 oz to one and a half pounds. There is a picture of one that is really nice here.
Here is a close up example of another gun–not a ladies guns, of course, but it shows the two triggers needed to operate the two barrels.
 I found the picture on Wikimedia commons here.
I also found a pic of a replica of a Double-Barrel Flintlock Pistol used by Napoleon. It was a side-by-side double-barreled flintlock pistol and the original bore his insignia on both sides of the grip. It was made by Gribeauval, Napoleon's personal gun maker in France circa 1806. The barrel is listed as being just under eight inches long and weighing roughly 2 pounds . You can see a nice picture of this replica here.
As far as rifles, they were also available, probably by special order, with two barrels like this one.
This double-barrel gun is listed as as Coach Gun, but no date is listed. Still, it's another beautiful example of what they looked like, even two hundred years ago.
Almost all flintlocks were smoothbores. Some were rifles, with spiral rifling inside the barrels. They were difficult to load because the bullet had to be seated against the rifling groves to actually spin the ball, so it was hard to ram home. They wrapped cloth or leather around the ball because the cloth made it easier to get down the rifling of the barrel.
So, if you wondered if my brave heroine, Elise, really could have used a double-barreled gun to save the hero and the boy from the cutthroats about to kill them, the answer is yes!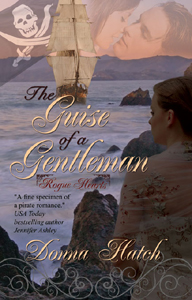 The Guise of a Gentleman, winner of the Golden Quill Award
"Combining Jane Austen with swashbuckling adventure, The Guise of a Gentleman is a fine specimen of pirate romance!" NY Times bestselling author Jennifer Ashley

The widowed Elise is a perfect English lady living within the confines of society for the sake of her impressionable young son. Her quiet world is shattered when she meets the impulsive and scandalous Jared Amesbury. His roguish charm awakens her yearning for freedom and adventure. But his irrepressible grin and sea-green eyes hide a secret.
But his irrepressible grin and sea-green eyes hide a secret. A gentleman by day, a pirate by night, Jared accepts one last assignment before he can be truly free. Elise gives him hope that he, too, can find love and belonging. His hopes are crushed when his best laid plans go awry and Elise is dragged into his world of violence and deceit. She may not survive the revelation of Jared's past…or still love him when the truth is revealed.