I have been in love with this book since I saw the cover. (You can tell covers really intrigue me.) The book was even better. I couldn't put it down once I picked it up. The characters were wonderful and easy to fall in love with. The plot captivated me all the way to the end. I would highly recommend this book to anyone. It receives a :):):):):)

by Bonnie  Harris Book Reviews
 

The summary for this book made it sound like an action/adventure/romance/paranormal novel. And that's exactly what it was! I loved every single moment of this book 🙂
To start, Jeniah is princess of Arden but she certainly doesn't act like any ordinary princess! She's brave, adventurous, different and has special magical abilities. I'll just say that I loved reading the book from her perspective BUT you also get to read it from Kai's perspective, which made it all the more interesting. The book started off very strong, with a captivating beginning. You are immediately introduced to both main characters and you feel as if you've known them forever. Kai is probably one of my favorite male characters that I've read about. He's obviously handsome and is dangerously skilled in combat, which makes him the perfect bodyguard for Jeniah. They embark on an amazing journey together and you get to see their relationship develop throughout that adventure.
As the novel progresses, it just gets better and better! There's a ton of action and suspense moments in the book and a few twists too! I loved the new mythical creatures introduced in the novel such as chayims, wrywolves and duocorns. Well wrywolves are just another type of werewolf species but still, I liked how Donna included some differences between the two. For me, the end of the book was spectacular. It was amazing! I finished this book in three days because it was so gripping. I'm really hoping for a sequel.
I recommend this book to everybody! Do yourself a favor and go pick it up RIGHT NOW.
 

Jeniah is a princess with a secret, she can do magic. She keeps it to herself because she feels like an outcast in her royal family, and magic brings trouble. Jeniah's power is a blurring power, she can hide herself anyway she wants. Jeniah doesn't feel important, just a princess that will be married off at her father's convenience. Her only enjoyment is riding her duocorn. One afternoon on a ride, she meets her destined chayim (a magical creature with power). They are bounded immediately, now deep down she realizes she is special, if this creature choose her. A knight from a distant country, Kai, on his way to her country, thinks she in trouble, and kills the great beast. The two don't start off on the right foot, but gradually their relationship grows. Later, Jeniah is promised to the Hanoran prince. This troubles her because of the rumors of the gruesome king, dark magic, and torture. Alas, she accepts her fate. Before she is sent off, her country is invaded. She escapes with Kai, and along their journey, Jeniah discovers things about herself, her magic, and her family that change her destiny.
I LOVED this book. The romantic tension between Kai and Jeniah was awesome. There was so much action and suspense, I couldn't get enough. I read it so fast because I wanted to see what was happening next, but I didn't want to finish because then it would be over… by LDS Women's Book Reviews

Ms. Hatch's words flow smoothly, the plot is multifaceted, and the story is never boring. It was a real joy to sit and read about Jeniah's adventure as she comes of age while fighting for her life. The author has researched this time period and makes her tale authentic as well as entertaining.
Ms. Hatch has woven a story of magic gone wrong, an immortal evil king, a sorceress and a small contingency of honest, good people who are fighting them. Jeniah might be a queen of a destroyed kingdom, but she doesn't give up. Neither do the warriors that have agreed to defend her. This would make a great movie.
I really loved this story and am keeping this book for my personal library. I know I can pick it up and reread it and enjoy it all over again. If you like magic, romance, and action, this book is for you.  by The Long & Short of It Book reviews
5 stars of out of 5. I would read it again, and have recommend it many friends. It was also nominated for a 2010 Whitney Award. By LDS Women's Book Review
 I love stories that swept me up into a different world and make me want to stay there. That's exactly what Donna Hatch's book, Queen in Exile, did for me.
 This is a wonderful fantasy tale of romance, forbidden love, and love conquers all that is balanced nicely in the fight for a kingdom and a woman who would be queen.
 The hero, Kai Darkwood, is a true knight in shining armor to Jeniah. He's a tough warrior and protector when he needs to be, but kind and gentle when the moment calls for it. He, too, is struggling with a scarred past, but his desire to do his duty and help the woman he knows he shouldn't love, but does, makes for a great character.
 Jeniah is a pampered princess whose world suddenly changes in one horrible night. She's a smart heroine who doesn't shy away from doing what needs to be done to survive. The reader watches her grow as the mantel of queen is suddenly thrown upon her shoulders. She meets the challenge with her head held high all the while falling for her knight whom she knows she can never marry.
 Was there anything that bothered me about this book? A couple of times I had a hard time visualizing some of the wonderful critters that populated this story, but it was probably just me and it certainly didn't keep me from reading on and learning more about this fantasy world Hatch created.
 This book is one you can curl up on the couch with and forget all your troubles as you read this entrancing story.  By Kathi's Writing Nook
 This is the first Donna Hatch book I have read and I thoroughly enjoyed it! I can't wait to read more from this author. I was a bit skeptic after reading the back of this book about whether I would like it or not but I am SOOOO glad I read it! I thought it was VERY well written and had a GREAT story-line. Loved the characters and the adventure! A clean, beautiful, love story….along with fantasy and adventure! Great book!  by Forevertime
I don't read much fantasy (other than YA with our kids), but this was a compelling read. There was danger, there were great fight scenes, a compelling romance. I can see why this has won so many awards and accolades. It deserves it. Definitely worth a read, even for non-fantasy readers. Once again, I think the great asset of Donna Hatch's writing is that it is clean and non-offensive. Very well done.

  By Jennifer Griffith
Read more reviews for Queen in Exile, here.
Within weeks of each other, Alicia Palmer has lost her twin brother and her parents, leaving her uncle to inherit the estate. But her uncle's unfortunate financial failures have brought her family to near ruin, and it is now up to Alicia to save them all. Determined to keep what's left of her family from the poorhouse, she has resigned herself to something she would have never chosen: marriage to the highest bidder. Alicia knows she isn't a diamond of the first water. Who would ever give her a second look? 
Word spreads fast when an eligible bachelor needs a bride and Cole Amesbury is everything that any well-heeled lady of the ton would find intriguing — devastatingly handsome, filthy rich, and impeccably pedigreed. He's known as a lover of all things beautiful–particularly beautiful women. Small wonder that he has a reputation as the consummate roué. But why is he blatantly pursuing Alicia? 
At first I thought this would be a typical Regency romance, but I was happily proven wrong. The characters in author Donna Hatch's historical romance are wonderfully realistic, well-rounded by their foibles and idiosyncrasies. Alicia's modesty and vulnerability enhance her longing for true love and security. Cole's seemingly carefree attitude and easy flirtations perfectly camouflage his hidden insecurities and personal demons. The attraction between Cole and Alicia was so palpable, that I rooted for their union with each scene.
Hatch seems to have a good grasp on what makes a good story. This plot itself was well thought-out and easy to follow. I eagerly turned each page to read more, and was far from disappointed. And when it became apparent that the deaths of Alicia's parents and twin brother may have been far from accidental, the story just got better.
Donna Hatch has concocted a story with a charming blend of mystery and romance, sprinkled with snatches of well-placed humor. Fans of historical romance will find The Stranger She Married to be an enjoyable summer read.
Overall rating:

Sensuality rating: Sweet
Reviewer: Gracey McCarthy from The Romance Studios Book Reviews
July 27, 2009 
**********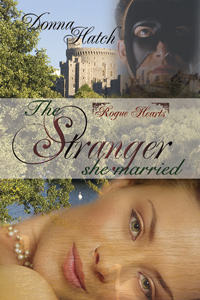 Alicia is out of options.  Her parents death in a carriage accident and her brother's death resulting from a duel, both left her to the mercy of her uncle.  Her uncle is running through his inheritance quickly and will end them all in debtor's prison by month's end.  Unless Alicia marries well.  The problem is, all of her willing suitors disgust her.  When Cole Amesbury arrives, she is swept away – until she finds out he is the one who shot her brother during that infamous duel.  Cole had no idea that the young man had died from the minor wound he suffered a year ago.  He had no idea that the enchanting beauty he just met was so affected by his actions.  But he did know one thing – he wasn't going to let her get sold off to the highest bidder.  Even if it meant he couldn't have her himself either.
My Opinion: A mixture of romance and mystery, this story is intriguing.  Though many factors may seem unrelated or conflicting at first, the author does a wonderful job of tying everything together satisfactorily.  Alicia is a strong character that really pulls you into her emotions, problems and personal conflicts.  Cole is a noble and determined character who you just have to love.  A little slow to start, the ending is exciting though I felt that it was perhaps to easy once you saw all the pieces.  Twists and developments keep you turning the pages and wondering just how it will end.  Great introductions to the main characters of later books.  Good read – can't wait to read the next one! by Clean Romance Reviews
**********
It is an exceptionally well written book, filled with mystery, high adventure, and most importantly of all, a wonderful romance. Ms Hatch creates a wonderfully atmospheric book and just when the reader thinks she might have the mystery figured out, she throws in a delightful twist that leaves the reader guessing all over again! Regency readers will love "The Stranger She Married". And I will be eagerly awaiting Ms Hatch's next book! by Joyce DiPastena
Ms. Hatch still managed to keep me engrossed in her storytelling and often second-guessing what would happen next. The Stranger She Married is written in a more traditional regency style. Most of the story is of a rather low-key nature, and it is very character driven. It is also, without a doubt, a PG-rated romance, making it appropriate, in my opinion, for both younger and more sensitive romance readers. It has no curse words, minimal violence, and aside from a couple of passionate clinches, the love scenes are merely implied and take place off the canvas with no explicit details whatsoever. With its more subdued nature, I wouldn't necessarily characterize this as a passionate, heart-stopping romance, and I normally prefer my romances to have a bit more steam. Still, in spite of it not being quite like my usual fare, The Stranger She Married had a very appealing quality that made me like it a lot.I think that there were two key elements which contributed to my enjoyment. First, the settings of the Regency balls, parties, social events and even the quiet solitude of a country estate were so beautifully and vividly rendered, it truly made me feel like I had been transported back in time to that era. The author certainly seems to have a good grasp on the history of the period, which lent the atmosphere a wonderful air of authenticity.
The other thing which truly impressed me was the dialog. I don't think I have ever read dialog that is quite so fresh, varied and robust to the point that it is not only woven seamlessly into the plot, but it almost becomes a living, breathing thing in itself. I have certainly waded through my share of vapid conversations in romance novels, but the dialog in The Stranger She Married is never boring or inane, instead I felt that it really gave the story more genuineness and depth. The author skillfully uses it to build relationships, and occasionally there was some sharp, witty bantering which brought a smile to my face. It seems to me that writing truly good dialog would be rather challenging, but in my opinion, Ms. Hatch has done a wonderful job with it here. by the Hope Chest Reviews (read the entire review here) 
I love Regency and I love a clean romance. Ahhhhhh. So it's only natural to say that I really love Donna Hatch's writing. She has a way of making the words flow while painting the perfect picture. When I read her books, I get so into the story. I feel like I'm watching a movie in my mind and I get swept away on a fantastic ride. She always has some sort of twist in her stories which makes it a lot of fun.
 I actually read the second book in The Rogue Hearts series first (which I loved), so I was already acquainted with the characters a bit. I ate up this story. The characters were so real and the whole story just came to life. It's a bit steamy in parts, but nothing that crossed my conservative boundaries. It might have bothered me that Cole was trying to woo (is that the right word) Alicia, except that I had some suspicions that made it okay for me. How is that for cryptic? I'm trying to write a review without adding spoilers. It's very difficult. Let's just say that I loved it and it made me want to read the second book in The Rogue Hearts series, The Guise of a Gentleman, again. And then it made me hungry for more…next book Donna? Andrea Wheeler Smith 
The dishes piled up and I groaned every time the phone rang yesterday because I did not want to stop reading for even a minute! Loved every part of this book…the characters, mystery and especially the romance! The heroine is just the right combination of innocence, humanness, and morality. The hero is a great mixture of strength, sensitivity and mystery. You will fall in love with them both. The Stranger She Married is proof that you can have a wonderful romance without being explicit! I hope the author continues to write clean romance in the future! by Zette T.
Read more 5 star reviews for The Stranger She Married here.
5 star Reviews for The Guise of a Gentleman
I liked it even more than the first book. In fact, I loved it. The Guise of a Gentleman sweeps the reader along in an almost epic journey that begins in the proper, quiet drawing rooms of country manor houses, then moves to a daring high-seas pirate adventure, and back to England for an intense, nail-biting climax followed by a sweet HEA. I was sucked right into the story in the first chapter when the heroine rescues the hero from certain death and he thanks her with a tender but searing kiss. Things slowed down a bit for me after that, with the plot following the couple around from one country party to the next as they get to know each other and their attraction builds. About a quarter of the way in though, I was hooked again, and by the time they set out to sea, I was utterly enthralled and at times reluctant to put the book down.
Jared has without a doubt earned a spot on my all-time favorite romance heroes list. From the moment he kissed Elise for the first time, I completely fell for him. Jared is an utterly charming, mischievous rogue, but at the same time, he plays the part of a proper gentleman to perfection. Underneath it all, he isn't quite the rake that he outwardly projects, which I loved. I thought this bit of his persona showed that in his heart he was looking for something special rather than just flitting from one ladies' bedchamber to another, although he certainly could have had his pick of female admirers if he'd wanted them.
Jared was also a deeply tortured hero who was tormented by all the questionable things he'd done over the years as a pirate, even though they were for the greater good. At the same time, he showed a profound sense of honor by creating rules for his pirate crew that kept them in line and prevented even worse things from happening. He had also earned their complete trust and respect by being a strong leader, and even proved his loyalty to them unto death. Outwardly, Jared was strong and brave, but inwardly, he was lonely and broken, a man who wasn't even certain of who he was anymore. I adored how his real self naturally came out when he was in Elise's presence and he wasn't afraid to show her his vulnerabilities. The scene where he seeks out her comfort after a sad, upsetting event in his life was thoroughly beautiful. Jared was also great with kids, showing tender affection for Elise's young son, Colin and his cabin boy/tiger, Jose. I could very easily envision him being a fabulous father. Jared embodied all the qualities that I tend to love most in my romance heroes. I can't think of a thing about him that I didn't like, and he would be more than welcome to give me kissing lessons any day.;-) by The Hope Chest Reviews (read the entire review here)
Set primarily in England after the Napoleonic Wars, this Regency romance captivates the reader from the start. Hatch weaves her spellbinding tale in such a way that her characters, both major and minor, come alive and whisk the reader back to 1819. And they don't release the unsuspecting until the story ends. Being a romance, the hero and heroine live happily ever after, but Elise and Jared ride a roller coaster of swashbuckling adventure that elicits smiles and tears, and almost doesn't happen. The Guise of a Gentleman is a delight to read –I'm not a big fan of Regency romances – and Hatch's research into the truth about pirates is immaculate. Although they step onto the page only near the end, they are realistically portrayed and so is the fate that awaits them. by Prirates and Privateers
This book was fantastic!  I think I liked it even better than the first one.  Jared is a wonderful and full character.  Elise is sweet and brave and everything you could want in a heroine.  The action and adventure pull you along, keeping you enthralled through every twist and turn.  The side characters are full and fun, making the world of piracy come to life.  Jared and Elise's love is realistic, sweet and powerful.  I got so caught up in the story that my heart pounded, tears filled my eyes and I just wanted to reach over and kiss my husband as I read it.  I also liked seeing more of the other brothers come to life.  I'm not sure whose story I am most looking forward to reading next – can't wait for the next one! by Clean Romance Reviews 
The Guise of a Gentleman may have landed Donna Hatch straight on my bookshelf of authors to keep an eye on. This story was both tender, amusing, and full of suspense at the same time. From the very first, when Elise and Jared meet in that so unconventional manner, their playful banter and the subtle undercurrents that underlaid every sentence was mesmerizing. The question of just what Jared was hiding and whether he would get away with it kept me flipping pages far past my bedtime.Under Donna Hatch's pen, every character comes vividly to life — I especially appreciate how Elise wasn't a virginal young miss waiting to be Jared's saviour. That departure from the usual tropes, combined with her son and her original intent to not remarry again made for a charming introduction to her. Colin, contrary to what I though, wasn't a throwaway character. He and his relationship with his mother formed the basis of much of the story and it was a joy to read.

Now that I've picked this story up, I can't wait to see if Jared's brothers will find wives of their own in upcoming books. Grant, for example, I positively await his fall into love with evil glee. by Night Owl Reviews

Ms. Hatch uses secondary characters to reveal much about the mores of polite society and to show the under belly of society. Some of these characters operate in both segments, some to do good deeds and some to do evil.

Donna Hatch weaves the relationship of Elise and Jared with unbreakable threads of caring and incredible love. This thread gleams like gold in a plot full of dark intrigues. by The Long and Short Reviews
Read more 4 and 5 star reviews from Amazon here