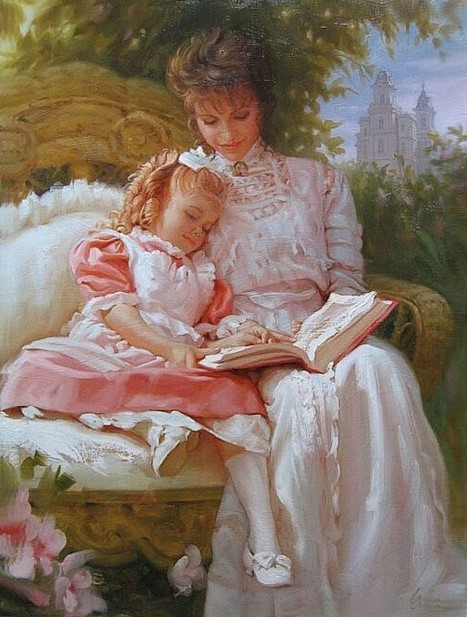 Mothers
Mothers are the best! Despite heroines in my Regency historical romance novels who seldom seem to have a mother nearby to help them, I adore mothers. My mother is the closest thing to a saint I've ever known. She taught me to love books, poems, and stories by reading to me every night when I was little. She listened as I read to her when I grew old enough. All this reading inspired in me to tell stories of my own, even as a child.
My mother taught me to appreciate music by playing good music in the home, taking me with her to church choir rehearsals, teaching me to play the ukulele, taking me to symphony orchestra performances and annual visits to the ballet to enjoy the Nutcracker during the Christmas Season. This led to my years of singing in choirs, performing as a soloist for local and church events, and playing the guitar (briefly–but I won the 7th grade talent show doing it) and years of playing and teaching the harp .
Mom patiently listened to my woes, didn't roll her eyes (visibly) at all my drama, helped me memorize my times tables, taught me to cook, tried to teach me to sew (my fault–not hers–that I didn't learn it well!), kissed skinned knees and elbows, and always greeted me in the morning with a hug and a smile. She even tried to teach me gardening, a skill I didn't appreciate or try to cultivate until I had a home and garden space of my own.
As a mother of my own six children, I often reflect on Mom's example and try to emulate her. No, I don't sew clothes for my children like she did for me, but I consider how she would handle any given situation that I face with my children.
Mother's Day was invented over a hundred years ago, and I'm so happy for the opportunity to help us each to remember our mothers and make a special effort to express appreciation for she who gave me life, but more importantly, who raised me, nurtured me, taught me, and loved me.
Since Mother's Day is coming up, I'd like to give a gift to a special mother. If you are a mother, or if you have an amazing mother (who lives within the United States) or an influential surrogate mom or a wife who is a fantastic mother to your children, you can enter to win a dozen fancy Mother's Day berries to give to her from Shari's Berries.
In addition, the winner will also receive one paperback or digital (your choice) of any of my books or novellas. You can view the selection on my bookshelf. Keep in mind that some of them are only available in digital format.
*****CONTEST CLOSED*****
The winner of the random drawing for the chocolate-cover strawberries and one of my book titles of her choice. And the winner is…..
Julie Langevin!
Congratulations, Julie! You have won With every Heartbeat, per your request, and Shari's Berries Mother's Day strawberries. How awesome is that?
Thank you so much to everyone who stopped by and left such wonderful, meaningful comments.
Enter:
*****CONTEST CLOSED*****
To win the berries and the book, simply tell me in the comments below:
1. One thing you love about this wonderful mother, or one thing you love about being a mother
2. Which book you'd like to win
3. Your complete email address so I can notify you if your name is chosen.
That's it! This random drawing will take place and be announced on ***CHANGE!!! May 11, 2017 at noon Pacific Time*** in order to ensure delivery before Mother's Day.
Happy Mother's Day to all you mothers out there!
Rules:
Open to US mailing addresses only. I still love my international readers, but mailing overseas won't work in this situation.
One entry per person, please. This means you can enter your mother or yourself but not both. This also means you can ask your husband or children to nominate you 😉 .
Winner (meaning the mother) must be at least 18 years old.
Void where prohibited.
*****CONTEST CLOSED*****