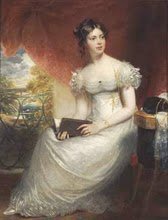 Often when people ask me why I chose to write romance, it surprises me a little. I didn't honestly choose to write romance, it sorta chose me. I never woke up one day and said, "The romance market is really successful over other genres, so that's what I'm going to write." It happened over time. My earliest attempts at writing were adventure and mystery. Later, I turned to science fiction. By my teens, I was  writing fantasy. As an adult, I finally wrote historical–with elements of adventure, mystery, and even a little fantasy. In all these earlier genres, progressively more and more romance sub plots crept into the stories.
My favorite books and movies are very character-driven, meaning the characters are interesting and well rounded, with a good balanced of strengths and weaknesses. These favorite tales have characters who get a satisfactory ending, triumphing over their challenges, and are better at the end of the story than at the beginning. And if there's a little romance, I like that even better.
Writing romance evolved over time, as what I wrote tended to center around characters overcoming obstacles to succeed in their goals and find love in the process. Now my stories center on romance, how characters find each other and realize that they are better, stronger, happier people as a couple than they were alone, AND overcome obstacles to succeed in their goals. Those are the best endings, don't you think?
People also often ask why I write "PG-rated" romance, also known as "sweet" or "clean" romance. That answer is very simple; that's where my comfort zone is. I prefer to read and write stories that don't go into the very private, intimate details of bedroom scenes. Many people, including my own agent, have encouraged me to write hotter romances, or even put in "just one little sex scene" because, as we all know, "sex sells." That may be true. I might sell more books and make more money, but that would feel as though I am selling out. I need to be true to myself, and that means writing romances that feel realistic, have plenty of chemistry, and even a few detailed kissing scenes. But anything beyond that either does not occur in the course of the novel, or it happens behind closed doors.
And I think Jane Austen would approve, don't you?
What kinds of books do you love to read?
Leave a comment and I'll put you in a drawing to win this cool, magnetized book button that marks the exact line where you left off. It's the best book mark ever! (next to one with my cover on it, that is 🙂