I'm so excited about my new cover for a re-release of my first Regency Romance Novel, The Stranger She Married! So, of course, I just had to share the artwork for the book cover.  Lex Valentine of Winter Heart Designs did this cover and I just love it.  So without further ado, here it is…Ta-da!!
Isn't it totally gorgeous and stunning and eye catching? I love it!!! And I hope readers do, too.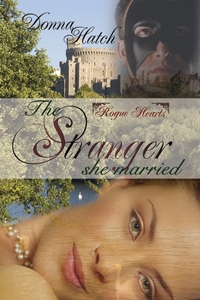 This was my old cover shown to the right, but since I'd gotten back the rights for The Stranger She Married in preparation to edit and re-release the novel, I needed a new cover. And that was fine, because I never really loved the cover anyway. It's fine, but it isn't clear that this is a romance, much less a historical romance, and I wanted my new cover to clearly proclaim this book is a historical romance.
The new and improved cover shown above went through a few versions before we come up with the final product. My primary objective was to show clearly that this is a historical romance, and I wanted it to reflect my writing style which has a few sensory-rich kissing scenes and a clear awareness of each other on an elementally physical level, but no "on-screen" sex scenes, so no sexy or erotic image, but nothing too sterile, either. I do, after all, have at least one hot kissing scene in every story. I also wanted the models to fit the characters' descriptions in the book.
The first mock up Lex gave me, (shown to the right) although lovely, is too sexy for my style. I love the layout — it is exactly what I wanted. Also, I love the English country house and the lake and the bridge. It does a great job of showing that it is at least an English historical novel, even if it's not clear that it's a Regency Romance. And I like that the female model is pretty but not beautiful, which is just how I describe Alicia in the book. The models also have the right hair color. And I love the guy who is cover model Jimmy Thomas. Yes, he's gorgeous and yes, I've had a slight crush on him since I met him three years ago. I had to just stare at his  picture a few minutes and let out a big sigh.
However, I am afraid this cover would make my current readers, many of whom are either crossover Inspirational Romance readers or hard-core sweet romance readers, uncomfortable. I also feared new readers would mis-interpret what they were getting in my book based on the cover. Jimmy having his shirt mostly off would scare off those looking for a sweeter read, and those expecting and wanting a hotter read would be disappointed when they read my story. Also, and less importantly, the overall color theme is little too pastel for my taste, and the heroine has on a bonnet I don't like. So I had Lex try again to get something less suggestive but would still clearly show that this is a Regency Historical Romance novel.
The second picture she sent me to consider for the cover is also beautiful–it has the same two models who have the right appearance, and the heroine has her bonnet off which I like, but again, Jimmy's shirt is mostly off so it is still too sensual for the story and for my overall style of writing.  I knew this imagewould scare off my sweet romance readers and my inspirational cross-over readers.  So I had her try again. I knew finding the right stock photos would be hard but I didn't realize quite how hard!
The third mock up (shown to the left) is almost perfect.
It has a beautiful historical fee and I love the grand, sweeping staircase behind them.  The heroine's dress isn't a true Regency-style gown, and I worry a little that some of my most prudish readers will balk at the sight of her slightly-off-the-shoulder gown, and I know the model's gown isn't even closely resembling a Regency woman's attire, but I decided to keep this picture because we were having such a hard time finding models who fit the characters' descriptions, wearing historical clothing AND were fully clothed, that I decided to sacrifice the historical accuracy of her gown (and risk the woman's bare shoulder) in favor of everything else. Most historical romance readers wouldn't know or care that her dress is wrong anyway (except for the few that are very well versed in Regency attire, like other Regency authors), and hopefully no one will think this cover is anything too sensual. If they do, I'll have to just be polite and silently remind myself that it's impossible to please everyone.
Honestly, I chose this photo largely due to the male model–he just looks so much like the way I'd pictured Cole that I just had to have it. And okay, I admit it, I also chose it because I was absolutely enraptured with the male model, sorta like an instant crush.  He's just so….Cole.

I had Lex modify the colors–I feel there is too much brown, so I asked her to make the landscape more green and make the banner more red which is how we ended up with the final produce shown at the top of the blog.
Below and to the right is the full-sized stock photo of just the two of them. Gorgeous, isn't it? As you can see, the female model in this photo is blond, but Lex changed it to a lovey shade of brown to more closely fit the description of the heroine, Alicia.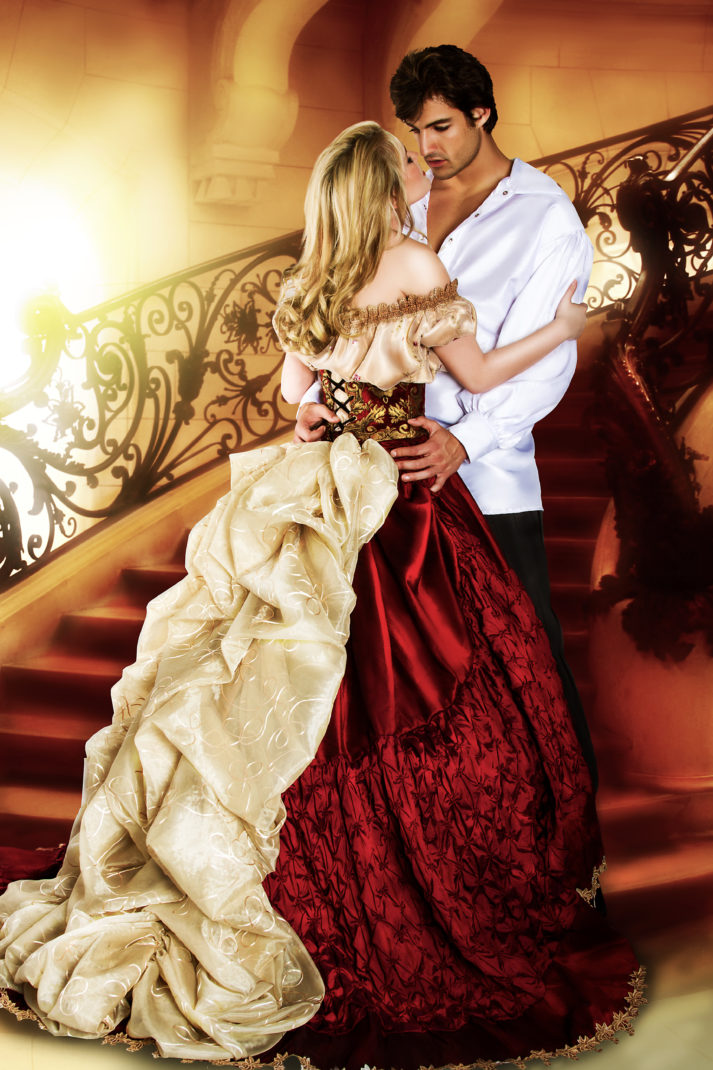 I have re-edited The Stranger She Married (which was originally published in 2008 by The Wild Rose Press), making minor changes such as fixing typos, powering up some wimpy verbs, fixing minor historical inaccuracies (such as changing hallway and hall to corridor or passageway) and so forth. It is being proofed now, and as soon as I get back all the proofs and make any needed changes, The Stranger She Married will be back in circulation in digital format. The Stranger She Married, Book 1 of the Rogue Heart Series, is still available in print with the old cover, but I hope to have the newly revised book with the new cover available in print a few weeks after it's released in ebook format.
So if you're looking for a sweet Regency Romance novel with a couple of hot kissing scenes but no sex scenes and no bad language, a touch of intrigue, a spunky heroine, a to-die for hero, and a happily ever after, stay tuned…I'll be announcing the release of The Stranger She Married very soon.