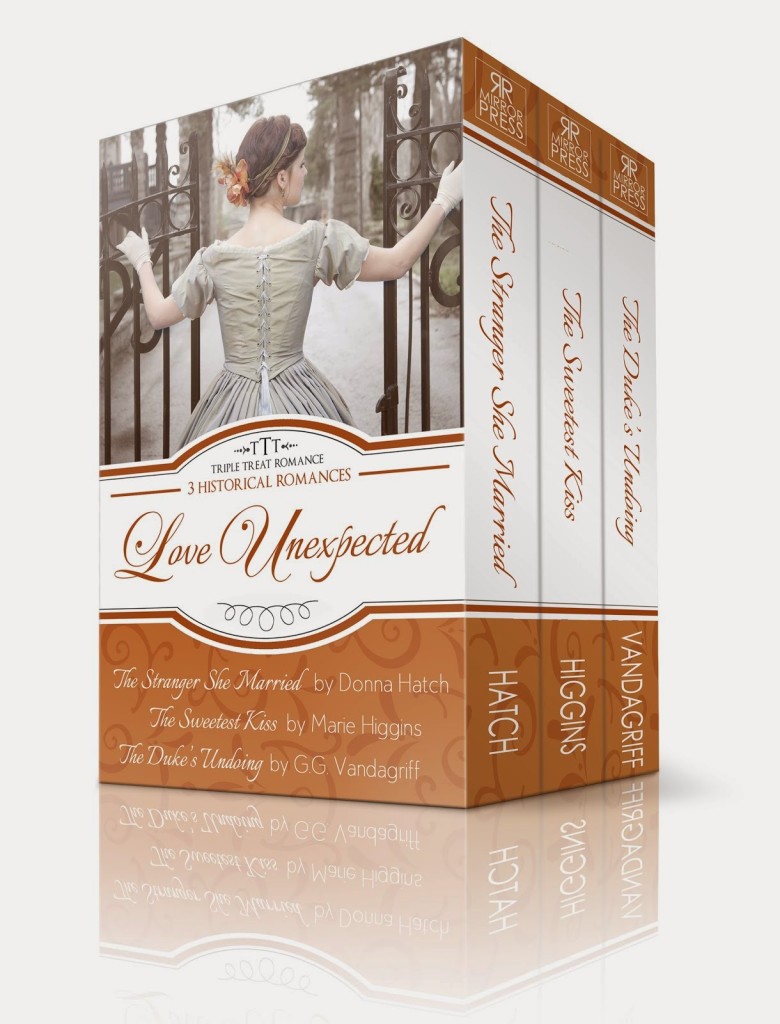 If you're looking for a great historical romance at a bargain price–I have a treat for you; how about THREE great romances for only 99 cents?
This week only, Love Unexpected: a Triple Box Set romance including the full version of my full-length Regency romance entitled THE STRANGER SHE MARRIED  is now availble for THIS WEEK ONLY at the promotional price of only $.99 .  This is available for all ebook readers.
Here's a link to the blog featuring my book and two other great full length sweet historical romance novels:
http://tripletreatromances.blogspot.com/
For some reason it's hard to find the Goodreads Page so here it is:
https://www.goodreads.com/series/129510-triple-treat-romance
Also, I encourage you to sign up for the Triple Treat Romance Newsletter so you'll be the first to learn of new sweet (clean) romances. Here's a link to the newsletter subscription:
http://blogspot.us8.list-manage.com/subscribe/post?u=46736ccb33664dcf09a969d31&id=a0ec1994c2
Hurry! This special deal lasts only this week. Then for the next two weeks, the price goes up to $2.99, which is still a great price. Normally, the price for this boxed set is $5.99. Remember, this is three full length historical romances that you are getting in one set and you can get it for any ebook reader format.
Happy reading!