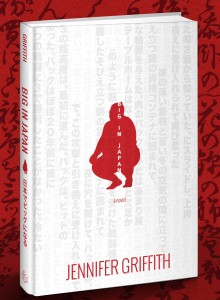 When fellow author Jennifer Griffith Stewart fist told me about her newest novel, Big in Japan, my reaction was: "Wow, that's different. It will either be an embarrassing flop, or a huge success."
Now that I've had the pleasure of reading her book, I'm going with huge success.
This isn't my usual thing. It's about an ordinary guy who has an ordinary job. The only thing unusual about him is that he's unusually obese. He views himself as invisible, since that's how others treat him, which is ironic, really because he's so huge that he'd be hard to miss.  But overlooked he is, over and over again. Until he visits Japan and becomes–accidentally–a sumo wrestler.
Yeah. A sumo wrestler.
Like I said, this isn't my usual thing and I was as surprised as I was delighted that I liked this book. Really liked it. The hero is so likable. He's really a knight in shining armor disguised as a big fat guy, and I can't help but cheer for him from the very beginning.
The author knows her stuff, too. Though a few of the Japanese words threw me, she did a good job of keeping the reader informed of what everything meant and who all the characters were. The romance was beautifully done, and while it seemed hopeless through most of the book, there is the promised happily ever after. I was so excited about this new book that I invited Jennifer Griffith to be my guest author today.
So without further ado, here's my interview with Jennifer Griffith, author of Big in Japan.
DONNA: Welcome Jennifer! First, let's start with a little biographical info.
JENNIFER: I grew up in Idaho, studied technical writing in college, but I never tried my hand at fiction until our first son was born. My husband encouraged me to write, and that's when my first of four published novels came about. My son is 14 now, we have five kids and a dog (who is kind of my nemesis) and I've been writing ever since.
DONNA: Tell us about BIG IN JAPAN.
JENNIFER:  It's a fish out of water story. An overweight Texan, Buck Cooper, is just a nobody. He's overlooked in every aspect of his life. He goes to Japan in a family emergency, and there he accidentally becomes the first blond sumo wrestler.   It's a light, breezy story, meant to be just cotton candy fun. It's a sports novel, but it's more than about sports. There's a romance, but it's more than a romance. This story is about Buck coming out of his shell as an overweight man and coming to realize he has something to offer, becoming the warrior he was always meant to be.
DONNA: What made you choose sumo? What's sumo all about?
JENNIFER: When I lived in Japan, I was with some friends riding in a car and the radio was tuned to a sumo match. The teenage girl with us went wild over the results of a match. It kind of shocked me, since sumo seemed so … well, weird to me. But when I started writing BIG IN JAPAN, I had to research it, and it is really pretty cool.   There are no weight classes, so lighter guys have to face heavier guys, and sometimes they can beat a bigger guy due to better balance or strategy. They just have to push their opponent out of the ring or else make him touch the ground with any part of his body other than the bottom of his foot, so it seems pretty simple. But there's so much power involved. Anybody who's interested in sumo can watch a ton of different clips of matches online.
DONNA: Obesity is kind of a theme in the book, right?
JENNIFER: Yes, it's a theme, but it's not really hammered away at. Buck has to deal with it some, of course. It seems like prejudice against fat is one of the last bastions of intolerance in our culture. We're working our way through race relations and ageism and all of that, but we still have these fat jokes and often people who are overweight are simply overlooked and undervalued. It's something people do subconsciously, but the challenge is still there. As a mom of five, I've been up and down the scale, and it's tough when you're tipping the higher numbers. It's a real challenge to keep self esteem buoyed up, especially when the media and our culture are tearing away at it.
DONNA: You clearly speak Japanese. You lived in Japan for a few years, right?
JENNIFER: In college I took a year and a half of Japanese and I lived in Japan as a missionary. It was the best! I got to live in a Japanese house, sleep on a futon, eat everything from natto (fermented soybeans) to pan-fried crickets, and speak the language. I met some of the most delightful people in the world. It was just the best experience I could imagine. Of course, the learning curve of going from speaking not a word of the language before I went to needing to speak to everyone wherever I went was pretty steep. That was tough! But totally worth it. I love, love, love Japan.
DONNA: How can someone (besides the very lucky me) get a copy of your book?
JENNIFER: As of July 28th, it's in bookstores nationwide. Barnes and Nobles especially, and independent bookstores. Plus it's available online. My publisher Jolly Fish Press was super about getting it in all formats. It's in both hardcover and paperback, and it's available as an ebook, too. Yeah, so here's a link to it. If someone reads it, I love to hear from readers, so find me on Facebook or Twitter!
http://www.facebook.com/AuthorJenniferGriffith  https://twitter.com/GriffithJen   Book
BIG IN JAPAN   Big in Japan releases on July 28th. Jennifer Griffith will be signing copies of her latest novel at Weller Books in Trolley Square in Salt Lake City, Utah at 6:00 p.m. that day.   Books will be available in bookstores nationwide. BIG IN JAPAN is also available for order through online booksellers and as ebook.