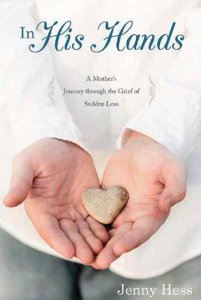 I don't normally do book reviews on this site, but every once in a while, something touches me in such a profound way that I feel I must share it.  IN HIS HANDS by Jenny Hess is a nonfiction book, probably classified as "self help." It is the story of a woman whose five-year-old son died suddenly in an accident with her husband, how they dealt with the tragedy, how they picked up the broken pieces of their hearts and learned to find meaning in life.
It was beautiful, heart-wrenching, and honest. Though geared toward those of the LDS faith a.k.a "Mormon" and includes some vernacular specific to that religion, any Christian (or even those who are uncertain in his/her beliefs) dealing with the loss of a child and who is seeking answers and a modicum of peace will find helpful answers in this book. Everything from no, you aren't crazy to feel this way, to how to respond to well meaning advice and comments from those who don't understand your pain are covered.
The first chapter was brutally painful and took me back to two points in my own life; one was when I had a late pregnancy miscarriage, and the other was when my six-year-old son and my husband were in an accident. As I read, I felt exposed and raw. I cried. I don't normally cry when I read, but this book reached in and sliced open my heart. The odd thing was, it was strangely healing, like when an infected wound has a scab over it and the only way to get better is to tear off the scab, clean out the infection, and apply a medicated salve.
The rest of the book was filled with the small loving acts that others around them gave this suffering family, a strengthened spiritual connection to God, and the path to acceptance, healing and peace.
You can buy IN HIS HANDS by Jenny Hess on Amazon, most LDS bookstores, including Deseret Book, and many of your favorite retail and on line bookstores.