I am so excited! I have two short sweet Christmas Regency romances available for readers. So, I'm all ready to celebrate, which, as usual, means totally fabulous giveaways for you!
The anthology, A Timeless Romance: Winter Collection, which includes my short story "A Winter's Knight", and my short single, Mistletoe Magic, are both available on Smashwords, Kindle format on Amazon, and Nook format on Barnes & Noble. The awesome Medieval romance author, Joyce DiPastena, also has a short story in the Timeless Romance anthology, "Caroles on the Green," AND she, too, has a Christmas short story. So Joyce and I decided to team up together for our celebration and offer the following giveaways:
An e-copy of Timeless Romance Anthology: Winter Collection, multiple authors (including Joyce DiPastena and Donna Hatch) – 1 winner: format of the winner's choice on Smashwords
And one grand prize winner to receive one each of the above: A Candlelight Courting, Mistletoe Magic, and A Timeless Romance Anthology – 1 winner: formats of the winner's choice on Smashwords.
Yes, that is FOUR WINNERS in all!!!! (Notice, I used four exclamation points 🙂 )
Since they're all e-formats, this contest is open to international entries. Deadline for entries will be midnight EST October 30. The winners will be announced on October 31.
Here are summaries of each giveaway prize: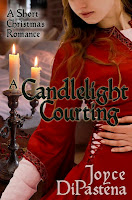 A Candlelight Courting: A Short Christmas Romance
, by Joyce DiPastena
When Burthred comes courting on Christmas Eve, Meg rejects his advances. She has her heart set on becoming a nun and insists that he call her Christina, the spiritual name she has chosen for herself. She tries to make him swear on her box of holy relics that he will not pursue her, but he carefully words his oath to allow him to stay in her candlelit chamber and try to change her mind.
What Meg does not confess is that her reliquary box holds a secret.
Burthred needs a wife, and no one will satisfy him except Meg. He swore on his father's deathbed that he would marry her. But Burthred has a secret, too. When they come together before the Yule fire, their shared revelations will either join their hearts together or tear them apart.
At the Christmas Eve masquerade ball, Evelyn plans to lure the charming and handsome Michael underneath the mistletoe and show him just how much she likes him. With a single, earth-shattering kiss, she's certain he'll finally realize she's the only girl for him. Little does she know, her childhood friend, Colin, has the same plans for Evelyn. Neither her crush on another man, nor her near escape from falling through the ice in a frozen pond will stand in Colin's way. They'll both need the magic of a mistletoe kiss, but only one of them will succeed in their plans.
Six Award-Winning Authors have contributed brand new stories to A Timeless Romance Anthology: Winter Collection. A collection unlike any other, readers will love this compilation of six sweet historical romance novellas, set in varying  eras, all with one thing in common: Romance.
My story,  A Winter's Knight, begins when Clarissa Fairchild's coach breaks down in front of forbidding Wyckburg Castle, a place where generations of earls have murdered their young brides. An adventurer at heart, Clarissa is as fascinated as she is horrified. When she meets widower Christopher de Champs, Earl of Wyckburg, she's torn between fleeing for her life or uncovering the handsome earl's terrible secret, a secret that may land her in the middle of a dark curse.
The Road to Caven Town by Sarah M. Eden, set in 1864 Ireland, combines Eden's sense of humor with her signature sweet romance. Alice Wheatley walks each weekend into town, accompanied by Isaac Dancy. And while Alice finds herself falling in love with the gentleman, unfortunately he has his eyes set on the belle of the town, Miss Sophia Kilchrest. Alice must find a way to turn Isaac's eyes toward her.
Regency author Heidi Ashworth's delightful story, It Happened Twelfth Night, follows Luisa Darlington who discovers the man of her dreams, Percy Brooksby, isn't in love with her as much as she thought he was. When Percy's friend, the mysterious Irishman, Mr. Flynn, visits for the twelfth night holiday, he promptly sweeps Luisa off her feet, quite literally. Luisa is left catching her breath in more ways than one.
An Unexpected Proposal by Annette Lyon is a captivating romantic novella, set in remote Wood Camp, the snowy canyon of Logan, Utah, 1880. When Caroline Simpson is forced to thwart the aggressive advances of Mr. Butch Larson, she discovers that her long-time friend, James, has genuine affection for her. But as stubborn as Caroline is, she minimizes the feelings he's awakened in her, and it takes almost losing James to admit her true feelings for him.
In Joyce Di Pastena's charming medieval story, Caroles on the Green, we enter England of 1151, in which Lady Isabel has a dilemma. She promises herself that she'll marry the man who sent a ring hidden in her pastry since the man she truly loves, Sir Lucian de Warrene, has proved to be impossible and exasperating. To forget him, Isabel sets her eyes on other eligible men, only to face another confrontation with Lucian—who isn't about to back off and leave her to her newest plot.
In Heather B. Moore's exciting turn-of-the-century story, A Fortunate Exile, Lila Townsend finds herself the victim of a broken heart—broken by the most notorious bachelor in 1901 New York City. If that isn't bad enough, her father sends her to Aunt Eugenia's remote farm where Lila must wait for her father's anger to subside and the gossip columns to find new fodder. When Lila meets her aunt's boarder, Peter Weathers, she discovers a man who isn't afraid to stand up to her formidable family and take a chance on a woman with a sullied reputation.
Currently, this anthology is available exclusively in ebook.
Winners will be announced Wednesday Oct 31.
What is something you like about Winter? Please share with me. And good luck in the drawing.