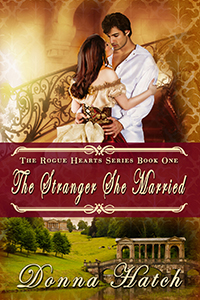 Congratulations to Abbi Hart for winning the random drawing for my Regency Quiz. Abbi wins a free paperback copy of my Regency romance, The Stranger She Married.
Here are the answers to Friday's quiz and entry for a free copy of The Stranger She Married, my sweet, traditional Regency Romance.
1. Where would a Regency lady wear a pelisse?
a. to a garden party.
b. to bed.
c. to go outside walking or shopping.
d. to the queen's drawing room.
The answer is c. It was a light weight, long coat that helped protect a lady's clothing from dirt and soot.
2. Why would a Regency ballroom have chalk?
a. to teach dance steps by drawing the pattern on the floor.
b. to decorate the dance floor and/or hide any flaws in the wood.
c.  for  dancers to wipe on the bottoms of their shoes.
d. b and c.
The answer is b and c. They hired chalk artists to do beautiful artistic designs on the floor as a way of enhancing the decorations or theme of the party, which also served as a way of providing chalk for the bottoms of dancing slippers as well as artfully conceal any flaws on the wooden floor that might be revealed by a partially empty room.
3. What is a banyon?
a. a men's dressing robe for casual, stay-at-home days.
b. an ornamental tree.
c. another word for a corset or stays.
d. a holiday dessert.
The answer is a men's dressing robe for casual, stay-at-home days. It was less casual than what we think of as a bathrobe, but more casual and comfortable than a snug-fitting tailored frockcoat. It was appropriate for a gentleman to receive visitors wearing a banyon. 

Congratulations to Katie, Natalie, Abbi, Heather, Paij,  Sherry, and the mysterious bn100 for getting the answers all right! A couple of you answered c for question two, which was actually d–both b and c, but I gave you credit for getting it half right. Those of you who got the questions right each win a digital copy of The Stranger She Married…unless you've already read it, in which case, you win any of my books or novellas of your choice. So if you're a winner, please email me at donnahatch29 (at) gmail (dot) com to arrange for delivery of your prizes.
Thanks for stopping by!