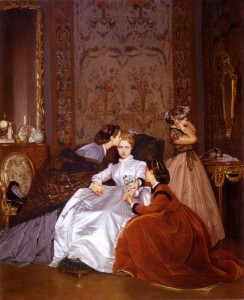 When I wrote my first short story, The Reluctant Bride, I was inspired by a picture. It was of a small, country road lined with trees all in autumn color. It conjured images of a meeting in a wayside inn. Out of that was born the premise for my story.
I had no idea there was  a painting by that  name painted by artist Auguste Tulmouche.
Isn't this one wonderful? It makes me wonder what her story is. Just look at her expression, she looks part dejected and part defiant.
And look a the other women. One is adjusting her flower wreath in careless unconcern. But the other two are obviously trying to console her, perhaps bolster her courage to go through with it. It makes me wonder who is the groom and why is she having second thoughts. Or has this marriage been arranged against her wishes? By the elaborate room, she is obviously of the upper class, and by the clothing styles this takes place during the Victorian era.
What do you think is her story is?
You can read my short story, the Reluctant Bride, for FREE on Smashwords.