As a child, my most beloved books were historicals. My favorites were the Laura Ingalls Wilder series, and Frances Hodgson Burnett's A Little Princess and The Secret Garden. I read those books over and over. Later, I discovered other historicals like Little Women, Jane Eyre, and Anne of Green Gables.
When I was a teen, I read almost everything, especially sci fi and fantasy, but was always more interested in the interpersonal relationships and romances than the plot itself. I started reading romances when I was about 14, and was immediately attracted to historicals of all kinds which sorta felt like full circle to me.  Yes, I still read and love fantasy, I even wrote a few, one of which got published, but historical has it's own kind of magic.
You're going to laugh when I confess how clueless I was, but I didn't really know what a Regency was until I started seriously researching it. Until then, I couldn't have told the difference between a Regency, a Victorian or a Georgian. But I always loved historicals overall.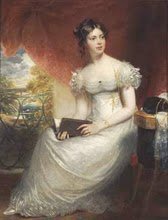 Historicals are like a whole new world, totally different from the modern world in which I live. Regency in particular is fun because the manners and mores of society are so formal and lavish (unlike my reality). Besides what's not to love about men who can dance? Not to mention that there are few things as manly riding horseback or fencing or being willing to engage in a dual to protect his honor–or that of his lady love. I have a thing for medieval romances, too. Love those knights who are all about duty and honor!
Honestly, I didn't know if I wanted to choose Medieval or Georgian or Regency or Victorian as my historical era until I plunged into my research. I discarded Georgian because I detested the white wigs and the wide panniers women wore then. I chose Regency over Victorian for a number of reasons: took place during and right after the Napoleonic war, which provides the perfect backdrop for the tortured hero still haunted by the horrors of war (my favorite kind of fictional character); it was a unique period, people were more free thinking than other eras, and also their days were filled with huge, lavish parties which adds an element of fantasy or magic (yeah, still soooo not like my real life); I like the clothing styles and part of the fun of a historical is getting immersed in the 'world' which includes describing clothing; and a large part of my decision to go with Regency is because it is a solid market niche which helps with marketing. But now it's a true passion and I get all geeked out about fun new Regency trivia.
I love Regency because of all this and more. Mostly, I love it because of the men. Or at least, my perception of the men. They were gentlemen. They were committed to duty and were so wrapped up in honor that they were willing to die for it. And that is a character trait I find immensely attractive.
To date, I have written 13 titles, (my newest, The Suspect's Daughter is pictured to the right), one fantasy, and 12 Regency romances (see my Amazon author page). I have two that are written awaiting publication and three others in various stages of writing or editing, so I expect to write Regency for a very long time.
After all, isn't a long-term commitment what true love is all about?
So there you have it, the reason why I write Regency Historical Romance novels.  Do you have a passion that  you geek out about? What is it?