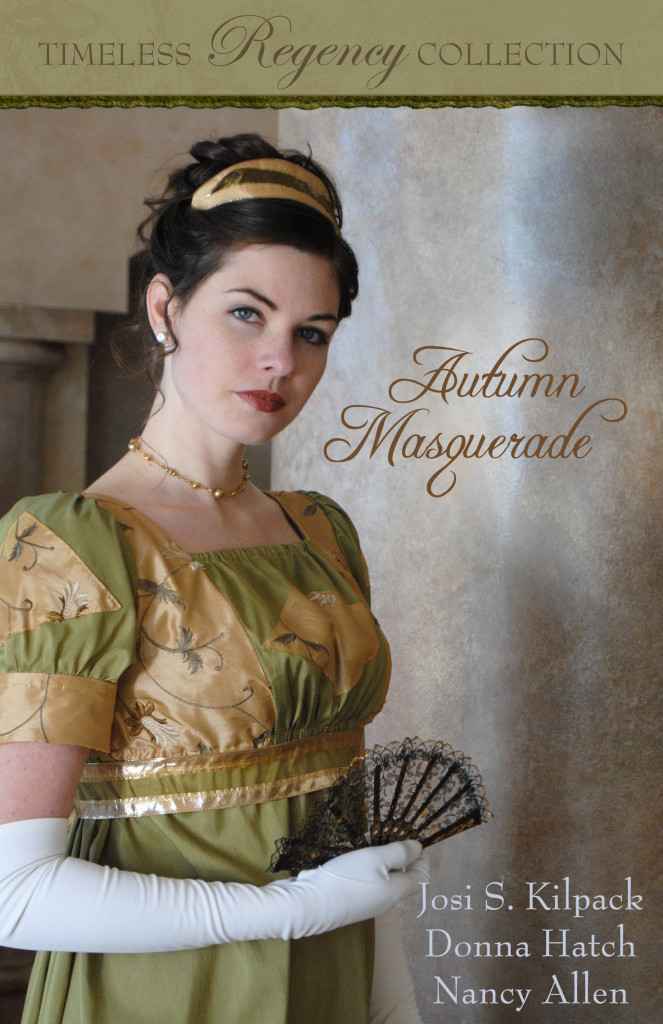 I am very pleased and honored to announce that I have joined award-winning Regency Romance authors Josi S. Kilpack and Nancy Campbell Allen in a new TIMELESS Anthology, The Regency Collection, entitled AUTUMN MASQUERADE.
This Regency anthology includes three 100 page romance novellas based around the theme Autumn Masquerade, presented by the publisher of the #1 Amazon bestselling "A Timeless Romance Anthology" series in New Releases for Clean Romance.
Each individual Regency story includes a sweet, unforgettable romance of overcoming obstacles to find and embrace true love and reach for happily ever after. These shorter novels are perfect for a quick afternoon pick me up. My novella, Unmasking the Duke, features Hannah, the younger sister of Alicia in The Stranger She Married. Hannah, as it happens, is much more than meets the eye, and the oh-so-dreamy Duke of Suttenberg soon discovers he has not only met his match, but has found the girl who can save him.
Josi and Nancy's tales were absolutely wonderful and I wanted to immediately read them a second time. This delightful collection will be available October 1, but please pre-order yours now to ensure a fantastic opening day by clicking on this live link. ​
A MERRY DANCE by Josi S. Kilpack. When Lila overhears her uncle talking about a man coming to look for property in the county, she doesn't think twice, until her uncle says he hopes Lila will find enough interest to marry the man. How can she marry someone named Mortimer Luthford, not to mention that his advanced age of thirty-three, and especially since she's already in love with her absent cousin Neville? But when Mortimer arrives, Lila has to try every trick known to women to act not interested in the rather fascinating man, which proves a very difficult façade to maintain.
UNMASKING THE DUKE by Donna Hatch. The last thing Hannah Palmer wants is to flirt with men in a crowded ballroom, but when her sister throws a Masquerade Ball, Hannah can't say no and takes shelter behind a mask. She dances with a delightful masked man, matching him wit for wit, and falling for his charms. When the glorious evening culminates in a kiss, and they remove their masks, Hannah is horrified to discover the man she's been flirting with all night is the despised Duke of Suttenberg. No matter how charming the duke was at the ball, and how wonderful the kiss, he is the last man she'd ever accept.
WHAT'S IN A NAME by Nancy Campbell Allen. Penelope Timely has a terrible secret. She's been writing letters to the Duke of Wilmington, pretending to be her ever-proper twin sister, Persephone. Now, the duke has written that he'll be coming for the Autumn Masquerade Ball and Festival. Penelope will have to continue the charade while the duke is in town in order to protect her sister. The Duke of Wilmington isn't fooled for a moment, but instead of confessing that he knows about the deception, he finds himself utterly charmed by Penelope and jumps into the game of deception to see how far the twin sisters will take it.
The collection is available on any ebook reader including Kindle. If sales are good, this collection will also become available in print in the future, so please tell a friend. (Or a 100) Pre-order your copy now for only $4.99 here.
For more on Regency Anthologies and Regency Collections, see Donna's other historical romance collections