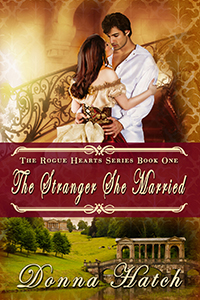 ***Closed***
There's nothing more exciting than adding some fun new books to my to-be-read pile! So, here to help you with yours, I'm giving away a free copy of my Regency romance novel, The Stranger She Married, book 1 in the Rogue Hearts series.
Winners have a choice of a free ebook or a paperback copy. International winners get a free ebook.
To enter the drawing, answer three questions.  You will find the questions in the rafflecopter below. Just click on each question # and take your best guess in the space below the questions. This isn't school–no complete sentences needed! You can just answer using the letter such as a or b.  The more questions you answer, or attempt to answer, the more chance you have to win.
Don't know the answers? That's okay, I give points just for trying!  Or, if you're willing to do a little detective work, the answers can be found in previous blog posts. Just check the search box.
The answers will be revealed on Friday, September 19, 2014 so check back then.
Thanks for stopping by and good luck.