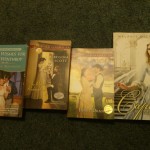 Before I became an author, I was a reader. Still am. I read all kinds of books–historical, fantasy, young adult, inspirational, science fiction, paranormal, and others.  My favorite books are historical, specifically historical romance, but I like my novels "sweet," meaning, without swear words or sex scenes. Finding books that don't have those can be tricky. However, there are some authors that I know will always be clean.
Recently, I moved my office into a different room and got it all arranged. As I did so, I went through a bunch of paperback books on my bookshelf and realized I had more books than I needed. Since there are very few books that I ever read a second time, I decided to give a few of them away. They are all clean or sweet romances. The authors of the books I'm giving away are: Shirley Kennedy, Regina Scott, Janet Dean, and Melanie Dickerson. If you'd like to enter the giveaway, please tell me what is your favorite historical era  in the Rafflecopter below.
You have more chances to win if you follow me on Facebook and/or Twitter.
I will contact you via email to ask for your address so I can mail the books to you.
Sorry, due to the high cost of mailing a box internationally, not to mention the time involved, this contest is only open to the U.S. and Canada.
a Rafflecopter giveaway