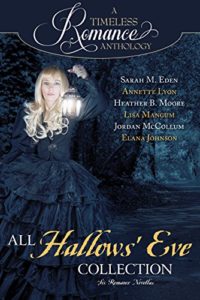 *****CONTEST CLOSED*****
Congratulations to Irene and Shirley who are the winners of ALL HALLOW'S EVE!!! I hope you enjoy this exciting collection of romantic spooky stories! Thank you to all who entered!
To celebrate Halloween, I am giving away a copy of ALL HALLOWS' EVE, an exciting addition to the popular Timeless Romance Anthology series. ALL HALLOWS' EVE is not to be missed! It has romance, thrills, and chills. Need I say more?
To enter the giveaway to win the Ebook, simply leave a comment in the comments section below telling me:
1. your name
2. which format you need–Mobi for Kindle, epub for most E-readers, or a PDF which can be read on most tablets, phones, and computers
3. your email address.
*****CONTEST CLOSED*****
Here are the blurbs for each of the six different stories by six best-selling authors: Sarah M. Eden, Annette Lyon, Heather B. Moore, Lisa Mangum, Jordan McCollum, Elana Johnson.
In Sarah M. Eden's mysterious novella OF GHOSTS AND GARDENS, if Enid Pryce has one downfall, it's that she talks to the ghost in her garden, which doesn't make her too popular among society's elite. In fact, she returns to her home in Wales after a Season in Bath with not one offer of marriage. Deeming herself a failure at the nearly-spinster age of nineteen, she is pleasantly surprised when an English gentleman shows up in her garden, apparently intent on finding out more about the ghost. Burke Kennard, grandson of an English marquess, quickly becomes utterly charmed by the young Welsh woman, but the ghost in the garden is more likely to push them apart than pull them together.
In Annette Lyon's enthralling story IT'S YOU, when Charlie and Anna both see the ghost of Nanny Mae, they think they're losing their minds. Anna tries to find out more about the ghost and uncovers a decades' old family secret. One that separated two people in love. Now, the ghost of Nanny Mae must set her wrongs to right. As Charlie and Anna explore the past, and the truth of what happened, they discover that the mistakes of the past might lead to love of the future.
In SOPHIA'S CURSE, a suspenseful novella by Heather B. Moore, Joan grows up in an abbey in France, believing that she is an orphan. A chance encounter with the foreboding owner of a neighboring estate, alters everything she's understood about her parents. She discovers she's an integral part of changing a decades-old curse, and that her life, as well as the handsome and intriguing Simon Rousseau's life, are both in danger unless she makes an enormous sacrifice that will change the course of her dreams.
In Lisa Mangum's haunting story THE SIRENS' SONG, we meet recently widowed Oliver, the lead physician on a luxury cruise liner traveling to Greece. He hopes that the change of scenery will help ease his grief over his deceased wife, Cate. After falling overboard, though, he is captured by a siren and taken to a mystical island. Through the sirens' song, Oliver is able to relive his memories of Cate—both the good and the bad—as long as he gives away his memories of her. But can he sacrifice his best memory in exchange for one last chance to say good-bye?
In Jordan McCollum's thrilling novella THE MAN OF HER DREAMS, homicide detective Alexandra Steen dreams about real murders before they happen, seeing the crime through the eyes of the killers. But the dreams never contain enough clues to save the victim before it's too late. Then one dream ends before a murder occurs—in a place she knows. She finds herself racing against time to prevent the deadly act, only to discover that the intended victim is a man she thought she'd never see again. Seven years might have passed since her breakup with Nick, but the years haven't changed her feelings for him. Now, she must convince Nick that her dreams are real and find a way to prevent his death.
In Elana Johnson's chilling story THE GHOST OF MILLHOUSE MANSION, Naomi knows her crush on Colt Jennings is unreasonable. When he invites her to his reclusive mansion to restore an old wooden rocking horse, Naomi can't resist accepting the job. The more time Naomi spends touring his home, the more interested she becomes in Colt. Until she sees a man in the library who vanishes into thin air. She thinks she's losing her mind until Colt tells her about the ghosts he's been seeing for years.
ALL HALLOWS' EVE is:
Amazon #1 Bestselling series in *New Release* for Clean Romance
Amazon Top 10 in Gothic Romance
Amazon Top 25 in Mystery & Suspense
I will do the random Drawing and announce the names on Monday, October 30th. will Remember, to enter to giveaway for the Ebook, simply leave a comment in the comments section below OR email me at donna@donnahatch.com and I will enter you. Please include:
your name
which format you need–Mobi for Kindle, epub for most E-readers, or a PDF which can be read on most tablets, phones, and computers
your email address.
*****CONTEST CLOSED*****