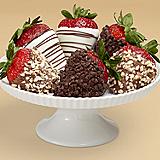 ***DRAWING IS CLOSED–CONGRATULATIONS TO TIFFANY WEBB!!***
I love Valentine's Day. And I love chocolate. And I love fans. So I decided to mix them all up together to get…a chocolate giveaway for my fans in time for Valentine's Day!
So this week, I'm doing a giveaway to my fans. One lucky winner will receive chocolate-covered strawberries from Shari's Berries.
Don't love chocolate-covered strawberries? First of all, what's wrong with  you? Just kidding. If you are chosen as the winner and you'd rather have something else, that's okay, you can pick anything of similar price from Shari's Berries and I'll have them ship it directly to you.
Want to get entered a second time? Refer a friend and tell me her name.
Here's how to enter:
In the comments section comment below, tell me something you love about Valentine's day, or about chocolate, or about friends, or about love. You can even share a fun quote, if you aren't feeling creative. Or you can pay me a complement if you really want 😉
Leave  your email address so I can contact you to arrange shipping. If I don't have a way of contacting you, I cannot award your prize.
Refer a friend, then in a separate comment, tell me her name. She does not have to be a fan of historical romance, but that's a definite plus!(for me) When she enters the contest, I'll put your name in a second time. You can refer as many friends as you want for more chances to win.
Entry closes Friday, February 5th at midnight. I will do the drawing on February 6th.
***DRAWING IS CLOSED!***
That's it. Simple as that.
Rules:
Valid in continental US only.
NO purchase necessary.
Must be at least 18.
Void where prohibited.